As part of our ongoing commitment to the industry, OvertheCounter and AHDA are inviting animal health advisors and retailers to join us at one of six events across the UK for a day dedicated to CPD training.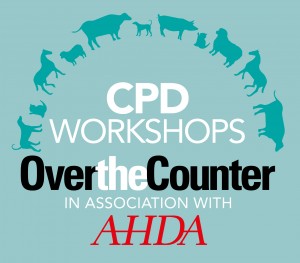 For the first time, this year's OvertheCounter and AHDA CPD Workshops will be hosted at agricultural colleges, enabling us to offer practical demonstrations and workshops. Workshops will be divided into three key areas, farm, equine and companion animal health. You can now register to attend this year's OvertheCounter CPD workshops.
Venues
Tuesday, June 2: Plumpton College in East Sussex (BN7 3AE)
Livestock and Equine
Tuesday, June 9: Myerscough College in Preston (PR3 0RY)
Livestock, Equine and Companion
Tuesday, June 23: Hartpury College in Gloucestershire (GL19 3BE)
Livestock
Monday, July 6: The College of West Anglia in Cambridge (CB24 6DB)
Livestock, Equine and Companion
Please note that workshops will be divided into Livestock, Equine or Companion full days. Upon registering please specify which workshops you would like to attend.
Charity Donation 
There is a £10 fee to attend these, but this will be donated to the Blue Cross or the Farming Community Network.
Due to the practical element of these workshops, spaces are limited and will be given on a first come, first served basis.
Simon King, OvertheCounter's editor, said: "OvertheCounter is committed to raising standards in the industry and providing CPD training is a key part of that, through the magazine, online and at the CPD Workshops.
"I am delighted that this year we are able to offer practical CPD training through interactive workshops that will enable SQPs that don't have much practical experience to learn best practice from industry experts."
Bryan Lovegrove, AHDA's secretary general, said he was delighted for the organisation to partner with OvertheCounter in 2020.
"We recognise that many SQPs have practical experience by the bucket full, but for those who haven't, this additional skills set is so important and helps to build both the confidence and professionalism of the individuals having the training," he said.
To book your place at this year's OvertheCounter CPD Practical Workshops, click HERE.