Pets at Home has seen its full-year profits and sales rise, but warned that the costs from the COVID-19 pandemic will impact its business in the year ahead.
In the 52 weeks to March 26, the retailer said its underlying pre-tax profit rose to £99.5. Group sales in the year rose 10.2%, reaching £1 billion, marking the first time the retailer's sales have surpassed that threshold.
This was driven by a 15.9% jump in like-for-like sales during its fourth quarter. Across the year, overall like-for-like sales increased 9.4%.
Meanwhile, the number of subscriptions across the group rose 23% to 865,000 during the period.
Pets at Home's chief executive Peter Pritchard said: "In normal circumstances, it would have given me great pleasure to reflect on another year in which we have grown sales and profits and successfully executed our proven pet care strategy.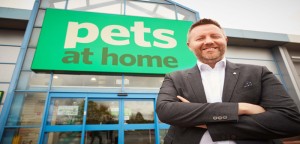 "These are, however, far from normal circumstances with the rapid, wide-ranging and devastating effects of COVID-19 having an unprecedented impact on all of our lives."
Mr Pritchard said that trading in its current financial year is down year-on-year as a strong uplift in online sales was not enough to offset the reduced level of in-store sales.