The Pet Food Manufacturers' Association (PFMA), which is celebrating its 50th anniversary in 2020, has announced the results of its annual pet population survey of 8,000 households.
Michael Bellingham, chief Executive of the PFMA, said: "Over recent months, our lives have been disrupted by unprecedented social, economic and emotional challenges as a result of COVID-19.
"Throughout this period, the tremendous support provided by our pets has been widely documented. Pets have helped many of us navigate these strange times by bringing much needed comfort, happiness and routine."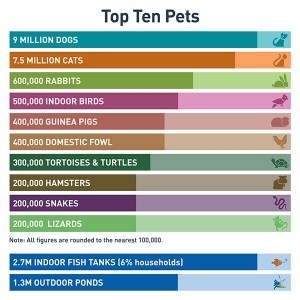 Mr Bellingham added: "Fifty years ago, the budgerigar was the UK's third most popular pet and there were only 5.1m dogs and 4.6m cats. Since then, the dog population has grown 76% and cat population has grown 63%.
"These figures transcend growth in the human population, which is 19% over 50 years. Dogs have predominantly held on to the number one spot through the years, although cats did claw their way to number one over the millennium."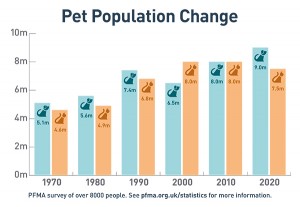 Mr Bellingham added: "Looking at the numerous positive stories of pet interaction throughout this period of change, it is likely that more people will see the benefits of pet ownership. We look forward to watching the landscape evolve further over the next 50 years."