The National Office of Animal Health (NOAH) has developed the COVID-19 Animal Health Industry Best Practice Guideline to demonstrate that NOAH member companies and their staff are following all best practice guidance to keep their teams and customers safe, as businesses move out of lockdown into recovery.
Dawn Howard, NOAH's chief executive, said: "This guideline takes account of best practice advice and complements individual company policies, which include specific company needs.
"The guideline is designed to provide reassurance to the wider animal health community that NOAH member companies are working with due diligence and following necessary precautions."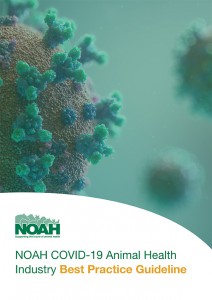 Ms Howard added: "This guide is intended to support animal health companies and their staff as they plan and restructure working activities following the publication of Government plans to ease lockdown restrictions. This is not a legal document and use of these guidelines is on a voluntary basis. The guideline will be reviewed every three months.
"Staff in customer facing roles, such as sales representatives and field-based technical advisors, will need to carefully consider how business objectives can practically be achieved."
To access the COVID-19 Animal Health Industry Best Practice Guideline, click HERE.