Purina has launched Pro Plan Veterinary Diets CC CardioCare, a new diet containing a blend of nutrients to support heart function.
This nutrient blend has been supported by clinical research, with a 2019 study revealing it has the potential to delay the progression of preclinical myxomatous mitral valve disease (MMVD) in dogs.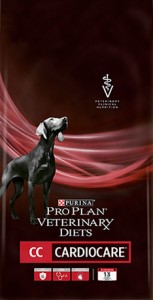 The CardioCare diet is based on research carried out at the Purina Technology Centre exploring how nutrients can support the ailing heart. First, a series of metabolomics studies identified key metabolic changes that occur in MMVD and established the basis of these at the molecular level. Second, a 'Cardiac Nutritional Blend' was designed to address these metabolic changes and this was evaluated in a clinical study.
Dr Libby Sheridan, Purina's scientific affairs manager for the UK & Ireland, said: "We're proud to be at the forefront of this exciting field and bring the benefits of our findings to vets in practice.
"CardioCare opens up a new avenue of support for patients with cardiac insufficiency and vets can use this diet as a tool to complement medical treatment."