Products from the Nettex backyard poultry range is now distributed exclusively via Trilanco, enabling retailers to access the products alongside their standard deliveries from the wholesaler.
The Nettex backyard poultry range is a complete range of UK-manufactured products tailored to the needs of the modern chicken keeper and is supported by extensive direct to consumer activity to educate owners about chicken healthcare and drive them into store.
To celebrate the news, and to kick-start the spring season, Nettex has developed the "Pesky Pests" campaign, to help communicate about the risks of parasite infestation, the issues that brings for chicken owners and their birds and to help products fly off the shelves during this key time.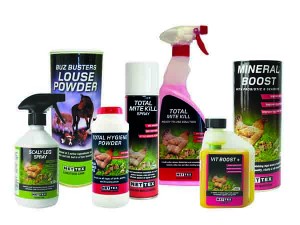 Claire Lalor, Nettex's sales director, said "The "Pesky Pests" commercial offer – available until June – enables retailers to purchase key lines with a 10% discount and utilise this discount to fund a consumer promotional offer.
"The campaign is supported with instore educational and offer point of sale material and a complete digital toolkit to help retailers communicate to their customers via email, online and on social channels including top tips from our very own Chicken Whisperer, Clare Taylor."
Ms Lalor added: "As well as marketing support, trade and consumer offers, Nettex poultry experts can provide AMTRA-accredited training for in-store teams, ensuring retailers and their customers have the complete solution to pest-free, healthy and happy chickens."
Martin Balmer, Trilanco's managing director, said: "We are excited to extend our working relationship with hardworking British brand Nettex, to now offer their poultry range alongside their equine range.
"Nettex has a complete range of trusted solutions for backyard poultry keepers with great supporting marketing campaigns and we look forward to offering this out to our accounts and growing our business together."
To access your digital toolkit and to request your printed POS pack, contact your Nettex account manager or customer services on 01283 524222.