This year's National Pet Month, which runs from April 1 to May 3, has the theme of Pets and People: Caring For Each Other.
As we emerge from a year of lockdowns, organisers of National Pet Month said it's time to celebrate life with our pets, talk about the importance of responsible pet ownership and – this year in particular – recognise the positive impact pets have on our physical and mental health.
Daniella Dos Santos, senior vice president at the British Veterinary Association, said: "I am proud of how the whole profession has stepped up during the pandemic, changing their ways of working but making sure that animals of all shapes and sizes are cared for, protecting animal health and welfare as well as public health.
"The way we consult has changed dramatically, and many of us are doing 'car park' consults to minimise contact within the closed space of a consulting room. It has been challenging having conversations in car parks, and for clients it has also been strange having their pets examined away from them. But we have all worked together to make sure all pets are getting the veterinary care they need during lockdown."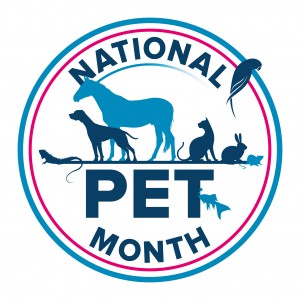 National Pet Month has been undergoing its own changes; previously a registered charity, it has been restructured as an educational awareness community for pet fans and owners.
The UK #NationalPetMonth campaign – a focal point for pet fans across the country – will still run from April to May every year.
Michael Bellingham, spokesperson for National Pet Month and chief executive of the Pet Food Manufacturers' Association, said: "This means we can dedicate all our energy to education, which is where our passion and expertise lies.
"We will continue to spread important messages around responsible pet ownership and how to keep our companion animals happy and healthy all year round."
Mr Bellingham added: "Making these changes enables us to encourage our amazing community of pet lovers, to help spread the message on responsible pet ownership and continue to raise vital funds for their favourite UK pet welfare charities and organisations.
"These are difficult times, and these charities need our support now more than ever."