National Pet Month 2021, which runs from April 1 to May 3, is focusing on the five animal welfare needs, the physical and mental health benefits of pets and the work of the veterinary profession through the pandemic.
NOAH chief executive, Dawn Howard, said: "In these challenging times, it's so important for us to support each other as well aspet owners and the animals in our care.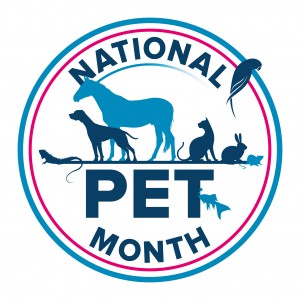 "Focusing on the five pet welfare needs of companionship, behaviour, diet, health and environment, the positive impact of pets on our health and the dedication of our veterinary colleagues, and other pet professionals, is a firm foundation for ourcampaign."
This year's National Pet Month theme is Pets and People: Caring For Each Other, reflecting how our pets have positively impacted us through a year of lockdowns, and looking at how we can give back, ensuring our pets stay healthy and happy.
Companionship
Ms Howard said: "The need for companionship has never been more in the spotlight as we have been forced to spend time away from our loved ones. The connection with our pets has been a lifeline as our wonderful series of #PetPawsitivity stories show.
"During the campaign we will focus on the companionship needs of our pets. We'll look at the unique challenges when we return to work, lead discussion and share tips on pet friendly office policies and give advice on what makes a pet's ideal home environment – whether they're a solitary animal or prefer companionship."
National Pet Month will also share the latest results of a Pet Food Manufacturers' Association survey on new owners in lockdown, providing valuable insights into UK pets and their owners today.
Behaviour
To ensure our pets remain happy and healthy at all times, Ms Howard said, it's important to understand the behaviour of our animals so we know if, and when, to seek advice from pet and vet professionals.
"We'll be providing support and advice to help owners and their pets avoid issues such as separation anxiety as we ease out of lockdown and our routines change," she said.
Diet
With pet obesity on the increase, it's never been more important to ensure our pets are eating a nutritious and well balanced diet.
During the campaign, National Pet Month will  be leading discussion and sharing articles on the latest data from PFMA and including advice and support to ensure pets are eating well throughout their lifetimes.
Health
From the moment a new pet arrives in our lives, it's important that we provide them with the best health care to help them live life to the full.
"To help owners achieve this, we'll be sharing all the latest news, advice and tips on vaccinations, worming, and other vital care from vet and pet care professionals," Ms Howard said.
Environment
Everybody – people and pets alike – needs a place they can call home, somewhere safe and secure and appropriate for their needs.
Ms Howard said: "Today more people now rent their homes, particularly younger generations who have embraced pet ownership during the pandemic, andfelt its benefits. However, pet owners can find it difficult to find suitable accommodation, with some forced to give up their pets to find somewhere to live.
"In the final week of National Pet Month, we will look at efforts to change policy and make pet friendly rental accommodation the norm, as well as offering advice to new and young pet owners who might be struggling."