Real-time updates on blowfly risk – produced via an ongoing collaboration between Elanco and NADIS (National Animal Disease Information Service) – now show the risk level has increased to 'high' across the country, with several regions now at 'severe' risk of strike.
Richard Wall, Professor of Zoology (Ectoparasite Specialist) and compiler of the Blowfly Risk Alerts, said a large and growing blowfly population and warm wet summer weather create the perfect recipe for high fly risk, particularly for lambs.
"Early in the year most strikes occur around the back end of sheep – but as the season progresses the risk of body strike grows – so care is needed to look out for the early signs and treat it quickly," said Professor Wall.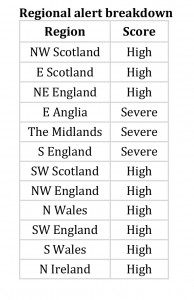 NADIS Map key:
Low risk: No significant risk
Medium risk: One in 2500 animals might be struck
High risk: One in 500 animals might be struck
Severe risk: One in 100 animals might be struck
Kate Heller, Elanco's ruminant technical consultant, says: "Farmers are being urged to 'strike first' with preventative treatments rather than risk devastation to their own flock. Using protection early reduces risk later in the season by ensuring a much lower fly count as the season progresses.
"A lot of farmers think "it's not in my control" because of bad weather or other circumstances. They're unnecessarily putting limits on themselves. Blowfly strike is not an inevitable part of farming and can be mostly avoided with the right management strategy."
"When farmers are looking at treatment options, they need to look for the longest protection with an IGR that binds to the fleece – It is now possible to get 19 weeks blowfly strike prevention. There are no guarantees when it comes to blowfly strike – with significant levels identified into November, an essential part of any strategy, has to ensure an early treatment that extends right through the long season."
National Farm Research blowfly study
Results of an Elanco blowfly study conducted in partnership with the National Farm Research Unit found that 99% of farmers having suffered financial losses as a result of blowfly strike. While 82% agree that the blowfly season is getting longer, with cases of strike being reported as early as February and as late as November.2


The cost
The consequences of blowfly strike can be devastating, leading to production losses and welfare problems. By comparison, preventing blowfly strike using a long-lasting product can offer not only peace of mind but can also be economical in terms of time, money and effort.