Real-time updates on blowfly risk – produced via an ongoing collaboration between Elanco and NADIS – now show the risk level increasing to "medium" across some regions of the country.
Richard Wall, Professor of Zoology and compiler of the Blowfly Risk Alerts, said: "As a result of recent warmer weather, the blowfly strike risk has now started to rise in southern England.
"Even in areas where the strike risk is still low, occasional strikes may occur, so care is needed. Strike risk typically changes very slowly at the start of the season, but lowland ewes with dirty back ends can be particularly susceptible before shearing at this time of year."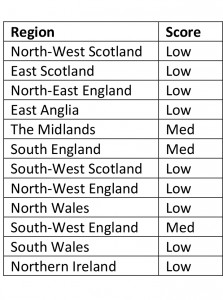 NADIS key:
Low risk: No significant risk;
Medium risk: One in 2,500 animals might be struck;
High risk: One in 500 animals might be struck;
Severe risk: One in 100 animals might be struck
Independent sheep veterinary consultant, Dr Fiona Lovatt, said: "We are at the mercy of the weather, so it's best to apply a treatment that gives you the best coverage. The costs of inaction when it comes to blowfly strike far outweigh the costs of protection – the time to act is now."
Kate Heller, technical vet at Elanco, added: "A lot of farmers think "it's not in my control" because of bad weather or other circumstances.
"They're unnecessarily putting limits on themselves. Blowfly strike is not an inevitable part of farming and can be mostly avoided with the right management strategy."