A soothing paw balm for dogs developed on a kitchen table by childhood friends Lyndsey Fearns and Becky Dutton-Geraghty is to be sold nationwide by pet retailer Jollyes.
The range of four balms, made with natural ingredients that are non-toxic and lick safe for dogs, has already become a hit online and are set to reach a new national audience through Jollyes.
Ms Fearns is store manager at Jollyes in Runcorn, Cheshire and was the first person Ms Dutton-Geraghty, who works in retail recruitment, turned to when she had the idea for the balms during lockdown in 2021.
After doing research into various essential oils, they experimented with different recipes and ingredients in Becky's kitchen and developed samples to ease doggy ailments including allergies, itchy paws, dry nose and anxiety.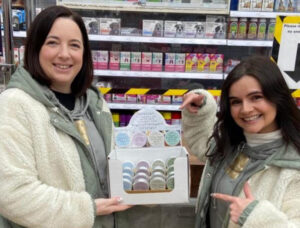 Ms Fearns said: "It was very important to us that our products were cruelty free and vegan friendly, and we didn't want a petroleum-based product because we knew it had to be safe if a dog licked it and ingested it.
"We test our products on humans, starting with ourselves. My chihuahua Meika used to suffer terribly at Bonfire Night. The anxiety balm has made a huge difference and I can't believe how settled she has been since we started using the balm."
With labels designed by Ms Dutton-Geraghty and packaged in recyclable aluminium cans, they started selling their Paws Right There range via Etsy site and Instagram and as the products became more popular they set up their own website.
"It just took off and we started building up followers who loved it and we realised we had something that could work," added Ms Fearns.
Last December they sent samples to Jollyes who agreed to a trial in six stores and the response has been so strong it is now preparing to roll it out across all 70-plus stores in the UK.
The balm now comes in four varieties: pre walkies barrier balm for paw and snout protection, anxiety calm balm, itchy paws soothing balm and vegan rough paws and snout Saviour.
The business partners, who are looking for a manufacturer to scale up production, have just launched a pet sun protection balm to protect dogs' noses and ears which went on sale on their website on June 1.
They also have a range of pet-friendly candles and wax melts made from natural materials and reflecting the growing awareness of avoiding potentially harmful emissions in the home.
Jollyes' commercial director Chris Burns said: "We were really impressed with the balms. There was a gap in the market for Lyndsey and Becky's product and their cruelty free ethos fits perfectly with our approach.
"Customers in the trial store love it and we can't wait to see the response as we roll it out across all our stores."