Devon-based natural dog food makers, Forthglade has launched an extra special birthday meal to celebrate its 50th anniversary. The company said its new limited-edition Sardines & Haddock with Potato & Broccoli meal is made with fish landed in Devon.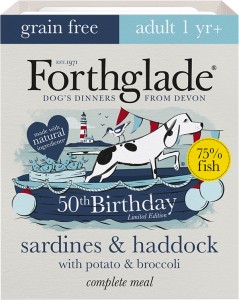 The Sardines & Haddock meal is suitable for dogs aged 1yr+ and is available in convenient 395g trays (RRP £1.45) or as a case of seven trays (RRP £10.15).
Containing 75% sustainably sourced Devon fish and packed full of vitamins, minerals and botanicals such as camomile, parsley, rosemary and nettle, the new recipe offers a great source of protein, nutrients and natural oils.
Gerard Lovell, joint managing director of Forthglade, said: "Forthglade reaching its 50th anniversary demonstrates how much our products are loved and appreciated by our four-legged friends, and we wanted to celebrate this with a Devon-inspired dish from our local suppliers.
"The dedication of our team has made this business a true Devon success story, and it is quite incredible the number of dogs across the UK and internationally that our food has helped over the years."
To coincide with its 50th anniversary, Forthglade has published the results of a study into dog owners' spending habits.
The study found the average British dog owners will splash out £62 on their canine's birthday this year, with 50% not ashamed to admit that they always spend more on their dog than their partner's birthday.
The nationwide poll found that 70% of UK dog owners celebrate their canine companions' birthday every single year.
Fortglade said that 22% of the dog owners polled stated their pet's birthday was one of their favourite days of the year, while 24% claim it's become even more special since lockdown.