With the help of Waffle, a dog smuggled to the UK from Slovakia, Dogs Trust has hand delivered a letter to the Prime Minister, asking for the Animal Welfare (Kept Animals) Bill to be passed through Parliament before it's too late.
Accompanied by the smuggled pup, Dogs Trust's veterinary director, Paula Boyden, visited 10 Downing Street to personally deliver a letter with the backing from over 50,000 Dogs Trust supporters pleading with the Prime Minster not to drop the ball on the Government's election promise to tackle puppy smuggling.
If not passed through Parliament before June 8 the Kept Animals Bill, which would help bring an end to dogs like Waffle being smuggled into the UK in horrific conditions, and dogs with mutilations such as cropped ears being brought for sale into the UK, will be scrapped.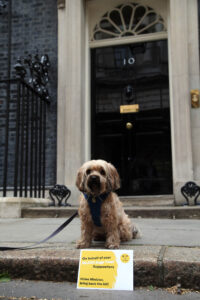 The Bill would allow restrictions on dogs with mutilations from entering the UK, thereby restricting demand and acquisition of dogs with cropped ears – a painful and unnecessary practice that can have detrimental effects on dogs' health, behaviour and welfare.
It is illegal to crop a dog's ears in the UK and EU countries, but it's not illegal to sell or import dogs whose ears were cropped abroad – a loophole that would be tackled under the Kept Animals Bill.
The Bill also includes measures to crack down on illegally smuggled puppies and measures to ban the importation of dogs in the later stages of pregnancy.
Dog Trust said the 2019 Conservative Party Manifesto set out commitments to advance animal welfare and introduced the Bill in 2021, but it hasn't progressed in the last two years.
The UK's largest dog welfare charity has grave concerns that it may not pass before the June Ms Boyden said: "The Kept Animals Bill has been brought up in Parliament no less than 35 times – but each time it's either been ignored, or a non-committal response has been given.
"So, in desperation, I visited Number 10 to hand deliver a letter urging the Prime Minister to please bring back the Bill before it's too late, and help end puppy smuggling, so puppies like Waffle don't continue to suffer.
"Why has the Government continued to allow this to happen? It certainly feels, at the moment, as if the Government made some empty promises in their manifesto – I very much hope they'll prove me wrong."