Pets at Home said it is seeing "exceptional levels of demand" amid the coronavirus outbreak.
The chain, which today reported an update for the year to March 26, said people had been spending more as pets played an "increasingly vital role in our lives" during the crisis.
As designated "essential retailers", pet shops and vets can stay open during the pandemic. Pets at Home said it had now shut non-essential parts of the business such as its Groom Room grooming salons.
In its update, Pets at Home said annual profits would be higher than expected due to the recent spike in demand for pet products and healthcare. However, it warned of an uncertain outlook for 2020-21 saying it was not "immune" to the crisis.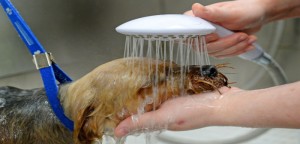 Retail analyst Richard Hyman told the BBC that the higher demand the chain was experiencing might be temporary.
"I think what may have happened is that some of the panic buying that we've seen domestically has been extended for the same reason for people and pets," he said
"I think for supermarkets it will remain at an elevated level as long as the market for eating out is paralysed. Whereas for pets I would expect demand to ease, so this may well be a blip."