New research claims that 75% of the UK's pets will receive their own Christmas present.
The research, by Cox and Cox, found that UK pet owners spend an average of £25 per animal on Christmas treats and gifts, meaning a collective £900 million is spent on the UK's 51 million pets over the festive period.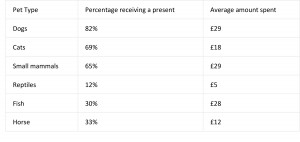 Reptiles are the least likely to receive a present, with only 12% getting a treat, at an average value of £5. In comparison, 82% of dogs receive a present, with an average spend of £29.
Millennials (25-34) spend the most on their pets over the festive season, forking out a substantial £38.11 on their beloved animal friends. This is compared to £20 for those aged 45-54 and just £11 for those aged 65+.
Jacqui Whitewick, head of acquisition at Cox and Cox, said: "Our pets are part of our family, so, of course, we want them to enjoy Christmas Day with us.
"As long as we're responsible with their Christmas meals and only buy them pet friendly presents, Christmas is as good a time as any to indulge your pet.
"Why not get them something they can enjoy all year round though, like a comfortable new bed to curl up in, or a new collar and lead?"