Tánaiste and Minister for Foreign Affairs and Trade, Simon Coveney, T.D. has officially opened a new €10 million manufacturing facility at Chanelle Group in Loughrea, Co. Galway.
Chanelle said the 30,000sq ft facility is Europe's first dedicated Spot On manufacturing facility built to European and US quality standards.
Details of the next phase of the company's capital investment programme which will see construction commence in 2019 on a new 25,000 sq ft manufacturing facility for liquid and paste medicinal products for the US market have also been announced. The company expects to create an additional 350 new jobs over the next five years, investing €86m in its operations.
Michael Burke, owner and managing director of Chanelle Group, said: "Since 2016 we have invested over €55 million and created 175 new jobs in our global headquarters in Loughrea. Over the next five years we will increase the pace of our investment programme, investing €86 million in our operations and creating 350 new jobs, bringing total employment to over 850 people.
"As part of this programme we will invest €11 million in a new facility for the manufacture of liquid and paste products which will also be designed and built to European and US quality standards. Construction will begin in October 2019 and the products manufactured will be for the US market."
Mr Burke added: "Research and Development is critical to our success. We've doubled turnover in the last five years, and expect to double turnover again within the next five years.
"This growth has been driven by our focus on R&D and I remain firmly focused on innovation. We will invest more than €45 million in R&D over the next five years in our five research laboratories operating in Ireland and the Middle East. We develop 15 to 20 new products every year; this level of innovation is unheard of in many larger multinational companies."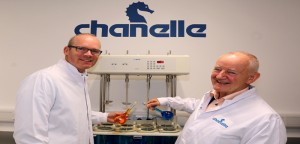 Pictured: Simon Coveney T.D and Michael Burke