UK Pet Food has released its annual pet population data, which revealed that 57% of UK households house 38 million pets.
Although the number of pets is up from 35 million in 2022, a rise of 9%, there has been a fall in the proportion of households owning a pet, from 17.4m in 2022.
The most popular pets list has also evolved with a 50% rise in the number of smaller pets such as rabbits, guinea pigs and hamsters and this population now at five million –1.7m more than the previous year.
Alongside a decrease of 6% in the dog and cat populations, which now stand at 12m and 11m, 13% of households admit to having relinquished a pet in 2022 with this figure rising to 28% among young owners (16-24years old).
Looking at which pets were relinquished, 47% gave up a dog, 36% a cat, 12% an indoor bird, 8% a rabbit, 6% a Guinea pig and 7% another pet.
Following the pandemic pet-acquisition boom, especially among millennials and Gen Z, 30% of these young owners now admit that the cost-of-living crisis has made them rethink pet ownership.
Nicole Paley, deputy chief executive of UK Pet Food, said: "World events have had a massive impact on lifestyles over the last few years. Throughout the pandemic, we saw an increase in people adding a pet to their family as they sought the amazing companionship a pet can bring.
"Today, owners are clearly impacted by the cost of living and sadly relinquishment figures are high. The small pet population is on the up suggesting that people believe they are more manageable and less expensive to keep. Although pets bring huge joy to a household, they also come with a huge responsibility, and it is so important to understand the care and cost implications – whatever the size of your pet."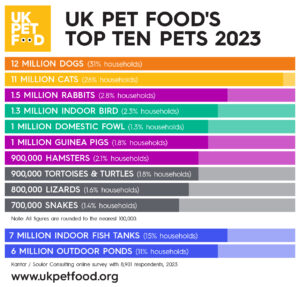 Ms Paley continued: "Startlingly, we discovered that only 29% of people considered the cost when they got a pet. Almost one fifth (18%) admitted that a pet was more expensive than they had considered. This figure rises to 23% among the youngest owners (16-24) and families are also impacted with 15% of those with children finding it tough."
Dr Samantha Gaines, from the RSPCA's companion animals department, said: "Sadly, these really valuable and important statistics demonstrate what RSPCA frontline officers and animal centre staff are already seeing day-in, day-out.
"As the cost-of-living crisis deepens, more people are abandoning animals, more animals are coming into our care, and rehoming is slowing as financial pressures bite. It's particularly worrying to see 13% needing to give up a pet, including really high numbers of younger owners."
UK Pet Food's research confirms that around 20% of owners have had to make cuts on pet insurance, vet visits and pet food. This rises to over one-quarter among the younger demographic.
Dr Gaines added: "Sadly, we have heard of people going without food themselves to feed their pets, but we want people to know that there is help available, from pet food banks, vouchers to help with vital vet care and cost cutting tips.
"In this tough financial climate, the RSPCA is doing everything we can to keep pets in loving homes. We've committed £1.5m of extra funding to crisis measures; launched a new Cost of Living Hub and a dedicated telephone helpline, while our pet food partnerships continue to go from strength to strength.
"What these statistics also show is that pets continue to be really important to people in the UK, with pet ownership on the rise, and that the companionship these animals offer is so invaluable. We're proud to work with so many of these owners every year, sharing our pet care advice and welfare tips, and building a world that's an even kinder and more compassionate place for animals."
Ms Paley added: "There is a need to raise awareness amongst potential owners on the financial responsibilities of pet ownership – whilst supporting all the amazing owners who are struggling.
"In times of crisis, many pet owners do not have a choice. This year, UK Pet Food wanted to support our colleagues in the welfare sector by analysing relinquishment and we are working closely with the Canine & Feline Sector Group to identify what the pet care sector can do to help. Plus, we have a guide for pet owners looking for pet food on a budget."