Christmas can be a stressful time for pets with strangers visiting the house, noisy gatherings, changes to routine and lots of loud noises such as party poppers and fireworks.
With this in mind, Ceva Animal Health has launched a FELIWAY and ADAPTIL Christmas marketing pack to help highlight festive stress factors amongst pet owners focusing on the difference between how owners and pets perceive festivities.
The marketing pack features a poster, leaflet and a counter top display to highlight the stress factors facing pets and provide pet owners with an overview of how FELIWAY and ADAPTIL can help pets cope with challenging situations.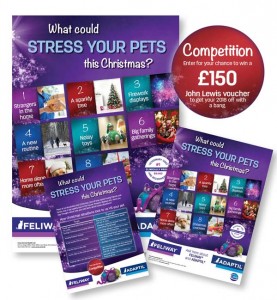 Ceva is also running a competition offering pet owners the opportunity to win £150 of John Lewis vouchers in a prize draw. To enter, simply email cevauk@ceva.com with the subject 'Stress Free Christmas' with your name and contact number.  The competition closes on December 24 and the winner will be contacted by phone in January 2018.
Claire Russell, brand manager of FELIWAY and ADAPTIL at Ceva Animal Health, said: "Big family gatherings, noisy toys and being home alone more often are just some of the stressful situations that pets can find themselves in during the festive period.
"Our new FELIWAY and ADAPTIL marketing pack will help highlight these stress factors amongst pet owners and raise awareness of how FELIWAY and ADAPTIL can help support their pets."
To request a copy of the FELIWAY and ADAPTIL Christmas marketing pack, contact your Ceva Animal Health account manager, email cevauk@ceva.com or contact customer services on 01494 781510.